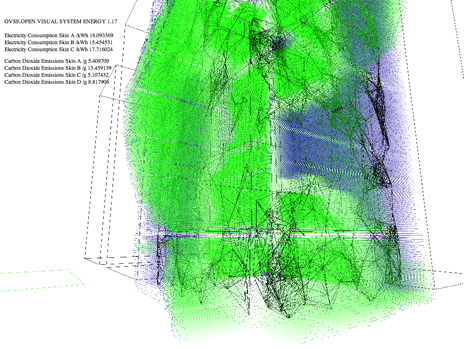 Image Open Energy. Real-Time Energy Behaviour Visualization. Fran Castillo.
Internet of Cities. City Data Sensing. Real-Time City.
We are currently engaged in exploring new models of dynamic cities.  In parallel to the evolution of the model "Internet of Things", in which the micro computation is embedded in the design of objects, the model Internet of Cities is emerging: it consists in multiple interconnected layers – energy, mobility, information – as an example of one of its layers, the Internet of Energy. It proposes a new model of distributed generation and energy management based on info-energetic infrastructure. In the model, Internet of Cities, the computation is distributed in urban infrastructure, the deployment of sensing technology allows the monitoring of different urban, environmental, energy parameters. This technology produces a large amount of data (Big Data). The exploration and analysis of these data structures through the design of visualization systems (and interaction) which will allow us to reveal new dynamics of behavior in the city. Around the confluence between the city and data (Data Sensing City) emerges the concept Real-Time City, in which it explicits an evolutionary dimension, auto adaptive, dynamic in the informational systems that constitutes this new model of city, therefore citizens can change their patterns of behavior in relation to these information systems, creating a dynamic reconfiguration of the city.
How will it be, the evolution of cities in the Internet of Cities? Can Real-time City generate new forms of governance, participation, analysis and information management?
READ MORE