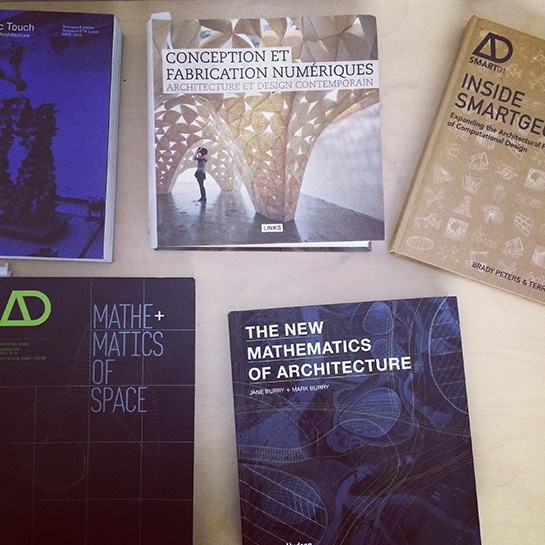 This morning when I arrived at HDA I found a lot of interesting books on my table selected by Sébastien Perrault, Mitsu Edwards and other collaborators of the team. At the office these books are used as reference and source of inspiration. They might be helpful to some of our readers so here is a quick presentation with a full online versions of 2 of them.
You can find more references on the reading list of HDA on tumblr:
complexitys.tumblr.com/tagged/book
THE ROBOTIC TOUCH (2014)
How Robots Change Architecture
Robots are necessarily playing a large role in architecture. Digital information is not just informing plans but actually being used to create the material that will construct a building.
But the use of robots in architecture has not been treated comprehensively until now. Written by Gramazio and Kohler with Jan Willmann, The Robotic Touch features thirty research projects on robots in architecture originating at ETH Zurich, documenting various methods and concepts relating to the use of robots in architecture.
More information about the book > press.uchicago.edu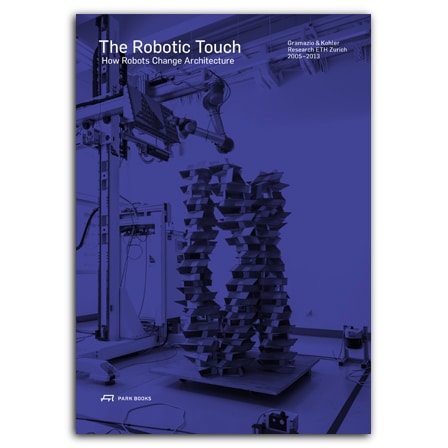 ---
FABRICATE (2014)
Negotiating Design and Making
This volume emerges from the 2014 Fabricate conference and focuses on relationship between design and making and the question of if and how innovations in the area of digital-material collaboration could become relevant at a large scale.
More information about the book > press.uchicago.edu
About the conference > fabricate2014.org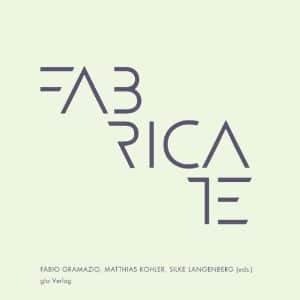 ---
INSIDE SMARTGEOMETRY (2013)
Expanding the Architectural Possibilities of Computational Design
The book INSIDE SMARTGEOMETRY can be seen as a retroactive manifesto for Smartgeometry,  a community of practitioners and researchers founded in 2001 exploring creative computational methods for the design of buildings. The book feature more than 10 year of work and research of this informal network : the digital spaces, prototypes and buildings designed using bespoke tools created in response to architectural ideas. Smartgeometry calls for a re-consideration of the design process, where the creation of computational mechanisms become an integral part of designing – not a task done prior to or separate from the process.
More informations > smartgeometry.org + eu.wiley.com
---
AESTHETHICS OF SUSTAINABLE ARCHITECTURE
This book by Sang Lee offers contributions from architects and scholars working in North America about the aesthetic potential of sustainable architecture.
More information > bookdepository.com
Introduction downloadable here.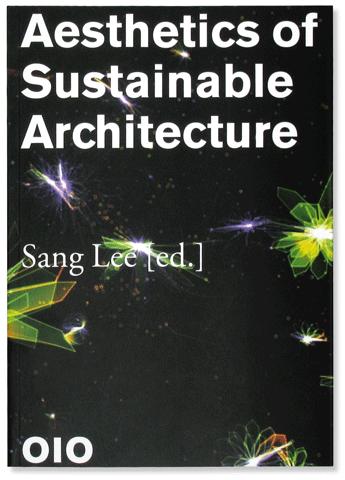 ---
INTERDISCIPLINARY DESIGN (2012)
New Lessons from Architecture and Engineering
Architects and engineers both claim to be designers, though how they define design and the approaches they use to realize it vary widely. Their interaction, however, has created some of the world's most memorable, enduring, and impressive buildings. The explosion of digital technologies illuminates the complexity and nonlinearity of the process that designers experience daily, while massively expanding the ability to visualize and represent forms and to analyze their structural engineering behavior. Technology has obviously changed both architecture and engineering, and so also the potential for interaction.
More info > gsd.harvard.edu
Google books page preview > books.google.fr
---
ADVANCES IN ARCHITECTURAL GEOMETRY (2012)
This book is the official publication of 2012 edition of Advances in Architectural Geometry, an international event happening every 2 years. HDA participated in this edition with a workshop about our design for the Louvre roof.
More info about the book > amazon.com
Next AAG event in a few days in London > architecturalgeometry.org/aag14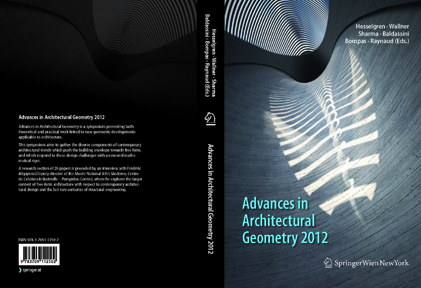 ---
MATERIAL COMPUTATION (2012)
AD magazine guest edited by Achim Menges – March/April 2012  issue
Achim Menges is the founding director of the Institute for Computational Design of University of Stuttgart, one of the most influential research institute for computation in design and architecture. This publication looks at the emerging convergence of computation and materialisation, bringing the virtual process of design and the physical realisation of architecture much closer together, more so than ever before.
More information about the book > icd.uni-stuttgart.de
---
MATHEMATICS OF SPACE (2011)
AD magazine guest edited by George L. Legendre – July/August 2011 issue
This publications focuses more on mathematics itself than computation.
If the impact of computation on architecture and design has been widely documented, the role mathematics itself in this revolution is less clear and less documented. Hence the time has come for designers, computational designers and engineers to tease the mathematics out of their respective works, not to merely show how it is done but to reflect on the roots of the process and the way it shapes practices and intellectual agendas, while helping define new directions.
More information about the book > amazon.co.uk
More information about the author > gsd.harvard.edu
---
FORM GEOMETRY STRUCTURE
From Nature to Design (2011)
Daniela Bertol, author of this book, is an artist, author, and architectural visionary who has worked for almost two decades on projects that integrate science, art, and architecture.
Form Geometry Structure is an architecture and generative design guide that introduces a scientific framework in the exploration of forms in nature and design.
More informations > bentley.com + danielabertol.com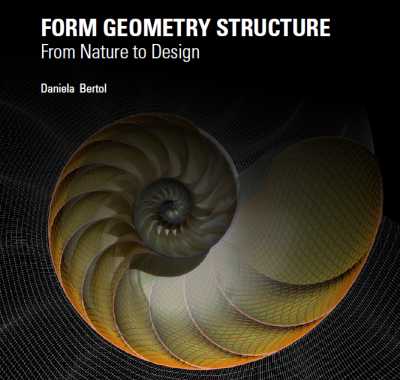 ---
DESIGN IN STEEL
by Mel Byars (1999)
Showcasing more than 100 high-design products from around the world, this is the first book to celebrate contemporary design in steel. Organized by designer or manufacturer, and featuring work by well-known and lesser known names alike, it is as much a survey of current design thinking as it is a book about steel. Products include furniture, kitchenware, tableware, bathroom fittings, lighting, desk accessories, even textiles.
Picture below : Round Square Dance Bowl by Ronen Kadushin
More informations about the book : amazon.com
---
STRUCTURAL GLASS
By Hugh Dutton and Peter Rice (1995)
Published in English for the first time, this second edition of the popular French original discusses the development of a new method of working with glass.
This new English edition, revised and expanded by Hugh Dutton, confirms the success of the innovative system demonstrated at La Villette. With nine new case studies not only from France but from Norway, London and Japan and an eight page colour section, Peter Rice and Hugh Dutton demonstrate possible applications of this new method of working with glass and its adaptation to large-scale projects with very different design and technical constraints.
More information about the book > amazon.com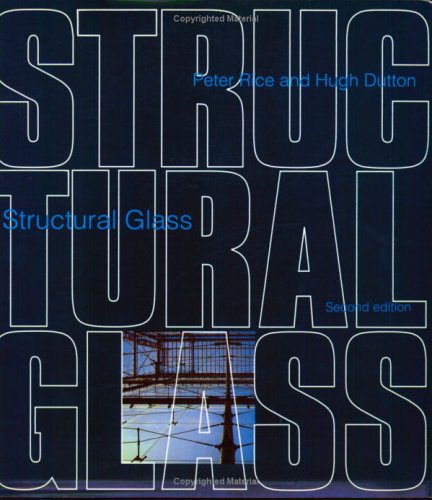 ---
TRACES OF PETER RICE (2012)
We have already reviewed this book in this blog that contains Hugh Dutton's contribution.
More information > complexitys.com/english/events/traces-of-peter-rice-the-book