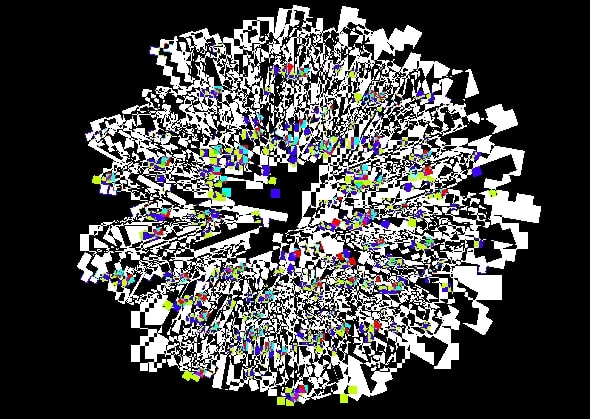 IMAGE ABOVE: Jaime Eizaguirre remixed by Francesco Cingolani

Experiment #1. Complexity through variation:
Making series: Starting from a very simple object, an asterisk, try to make a series of graphic variations (36 in this case), always keeping recognisable the original element.


> Computer analysis and conclusions:
Comparing the different variations produced through an animated sequence.
We always recognize the asterisk but we can clearly see the differences too. I think making series is a good way to explore graphic and design possibilities, having some fixed variables makes sometimes easier to develop ideas.




Experiment #2: complexity through combinatory:
Creating a matrix combining two families of geometries (outline + interior geometry).
> Computer analysis and conclusions:
Combining geometries by directly overlapping them.
We can see that the hand-drawn version (in black) is making small changes to make the geometries fit together better and not simply overlapping geometries (computer version, in red).
When drawing by hand we tend to « cheat », representing things « as they should be » or as they are in our minds and sometimes that can become a problem when translating it to precise geometries.
HAND-DRAWING THE COMPLEXITY is a work by JAIME EIZAGUIRRE featured at COMPLEXITYS on FRIDAYS of JUNE

Hand-drawing is a main tool in my work as an architect and illustrator. I usually focus the analysis of this tool from the point of view of simplicity: the power of suggestion of iconic images or hand-drawing as a fast tool to communicate. So, when invited to contribute to this blog I had to ask myself about the relation between hand-drawing and complexity.
I proposed myself a series of short exercises/experiments around this question:
How can we generate complexity through hand-drawing?
Each one of these exercises tries to create complexity through a different concept: variation, combination, randomness…
After drawn and scanned, the exercises are re-worked / transformed in a simple way using a computer, trying to better understand the results of these experiments and the differences between working analogically or digitally. I will also try to extract some kind of conclusions of each of the exercises.
///////////////////
MORE ABOUT JAIME EIZAGUIRRE