PHOTO ABOVE: GLASS TECHNOLOGY LIVE event – These points of light seems to float. This illusion is possible due to transparent conductive layer that delivers electricity to LED embedded in laminated glass.
Mr. Hugh Dutton will speak tomorrow in Stuttgart at Glass technology live trade symposium about interactive concepts for transparent building shells together with Mr. Johann Sischka of Waagner-Biro.

The lecture will focus on the case study of the Islamic Art Department at the Louvre that has been recently inaugurated in Paris.
……………………………….
INTENTIONS
The competition for the design of the new Islamic Arts department in the Louvre Museum in Paris was won by the team of Mario Bellini and Rudy Ricciotti. The design includes a glass roof covering the
exhibition spaces of the Visconti courtyard in the south wing of the museum.
Hugh Dutton Associates (HDA) were appointed as specialist technical designers for the glass roof and facades including the steel structure.
HDA's design directives were to create a 'light veil', 'delicately floating above the museology', a 'dragonfly wing' that 'filters the light' in the words of the architects.
The challenge then is to create a subtle play between the meshes and the structural framing,camouflaging the structural effort. How to achieve this delicate filtering membrane while concealing the structural reality?
Paradoxically the simple gesture of a smooth and undulating surface requires an extremely complex technical design and advanced structural analysis.
……………………………….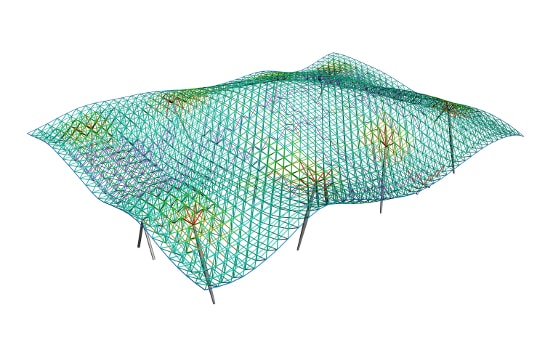 Département des Arts de l'Islam, musée du Louvre, Paris
Maître d'ouvrage: Etablissement Public du Musée du Louvre
Architectes: Rudy Ricciotti et Mario Bellini
Muséographes: Renaud Piérard et Mario Bellini
Consultants façade et structure: HDA | Hugh Dutton Associés
PHOTO ABOVE: 3d structure of the roof.
© R. Ricciotti – M. Bellini / Musée du Louvre
Image by Hugh Dutton Associates.
Details of the event
Glass technology live trade symposium, Stuttgart
25th of October 15:30 – 16:00
Programme overview as PDF