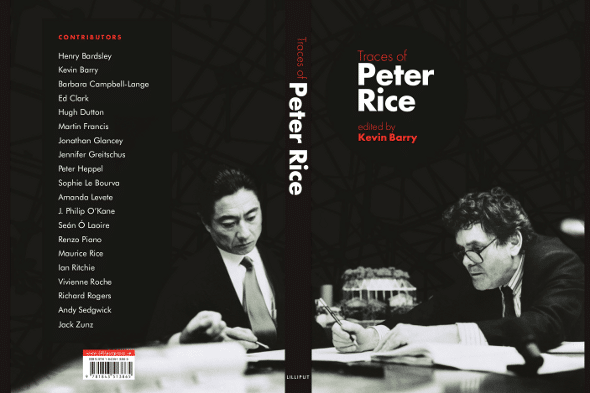 IMAGE ABOVE: cover of the book « Traces of Peter Rice », a collaboration between Arup, Culture Ireland, the Centre Culturel Irlandais and the Irish Office of Public Works. Edited by Kevin Barry and published by Lilliput Press.
We are proud to announce Hugh Dutton's contribution to the book « Traces of Peter Rice » exploring the designs of this pioneering structural engineer, his life and work.

Together with the book, Arup has announced its forthcoming exhibition – Traces of Peter Rice – to celebrate one of the most influential structural engineers of the late 20th Century. Marking 20 years since Peter Rice's death, the exhibition will focus on his contribution to five significant design projects including the Centre Pompidou and the Musée des Sciences et del'Industrie, Paris; the Menil Collection, Houston; the Full-Moon Theatre, Gourgoubès; and the proposal for the Groningen Museum in the Netherlands in collaboration with artist Frank Stella.
The exhibition will feature prototypes, maquettes, drawings, paintings, photography and a new documentary film. There are also references to Peter Rice's love of poetry, his interests in horse racing and nature as well as personal photographs, which capture the spirit of the times. Jennifer Greitschus, Head of Exhibitions at Arup and curator of Traces of Peter Rice said: « The legacy left by Peter Rice continues to resonate throughout the built environment and stimulate contemporary designers. In addition to showcasing past design stories, we are delighted to be presenting a new work by Tristan Simmonds inspired by Peter Rice's collaboration with Humbert Camerlo on the Full-Moon Theatre."
In 1992 Peter Rice was awarded the RIBA Gold Medal in recognition of his exceptional contributions to the design of the built environment. Kevin Barry, editor of the book Traces of Peter Rice writes: "Whether adapting nature's patterns to build flexible structures, or transforming our experience of the ecology of light, Peter Rice's public spaces delight and surprise with their sensual mathematics. Through his innovative use of materials, especially glass and steel, Peter Rice pushed the boundaries of his discipline".
Hugh Dutton collaborated closely with Peter Rice for 13 years at RFR, and related their experiences of the development of bolted structural glass and cable structures at the La Villette Science museum in a joint publication entitled Structural Glass. Wishing to take the design approach beyond modern steel and glass, Hugh Dutton, worked with Rice in his later years on developments in stone for it's structural potential and translucent qualities with work on the Seville Expo 92 stone structure Universal Pavilion as well as the translucent west front of the Cathedral de Notre Dame de la Treille in Lille.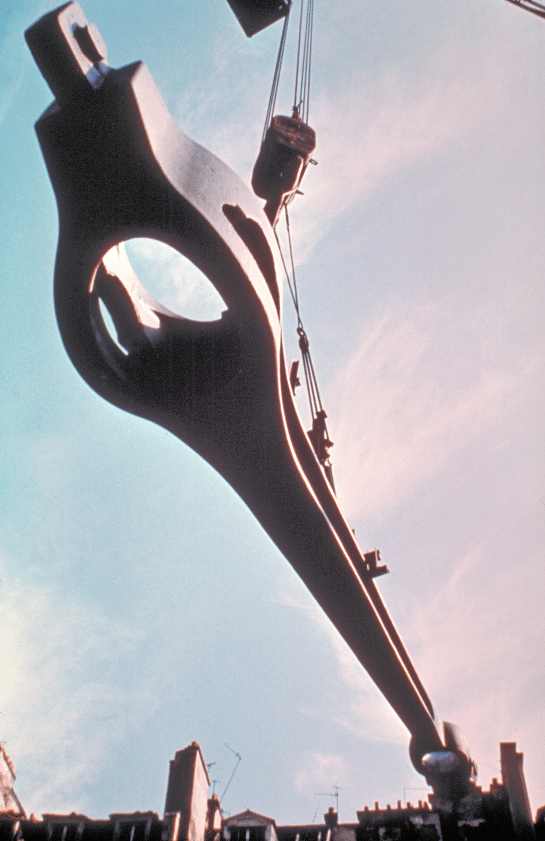 ABOVE: Gerberette being lifted into position, Centre Pompidou, Paris 1974
PHOTO: Bernard Vincent
About the exhibition and publication « Traces of Peter Rice »
LONDON – from 27 November 2012 to 5 April 2013 at Arup Phase 2 in London.
PARIS – from 14 May 2013 to 28 June 2013 at Centre Culturel Irlandais
DUBLIN – from 10 October 2013 to 23 December at Farmleigh Gallery
You can follow ARUP PHASE 2 EXHIBITIONS on Facebook.