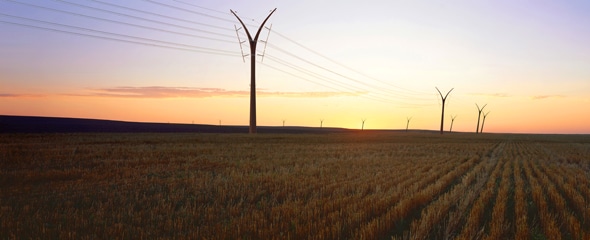 – press kit here –
As we have already announced in Italian just befor Christmas, our proposal won the "pylons of the future" international competition for italian energy supplier Terna.
Hugh Dutton explains his intent as it follows:
'Our own design response is based on changing the current 'industrial soldier' image of today's pylons. Primarily by an elegant shape whose form is inspired by nature instead of galvanized trellises. And secondly by what I called "dancing with nature" where the pylons lean and swerve in response to the topography. They find a structural equilibrium by leaning into the curve of the electric cables as they follow the constraints of the landscape.'
Symbolically this represents a very important project for HDA, as it expresses our deep conviction that new technologies, both in the design phase and in the construction phase, represent a powerful tool to optimally individualize architectures. This thereby avoids the banality of modernism standardization, whilst limiting material wastage, in a similar process to nature's own selectivity and optimization.
In the design phase, parametric processes are used for design calculations and form determination, the simple profile can be easily adapted to the specific constraints it has to respond to. Further, non linear analysis optimizes the calculation method, taking advantage of the elasticity  from prestress forces. In the construction phase, the pylons are fabricated from flat steel plate cut to individual shapes using contemporary numerically controlled tools. Each individual shape is automatically transferred to the cutting tool one by one from a computer. The flat sheet cut-out shapes are assembled together onto simple jigs and welded using automatic continuous welding machines.  Steel is itself a renewable material, that can be melted down and reformed for new uses.
These technologies are the same that HDA have already successfully used for the arch – photos below – of the Turin Olympic Footbridge, realized in 2006. In fact, «Pylons of the future» represents a refinement of the same design and construction process in which HDA profoundly believes, where architecture, technical constraint and technology are integrally combined.
You can find below a video presentation of the selected project, including proposals from Frigerio Design and Giugaro Architettura (respectively 2nd and 3rd price). The video has been kindly provided by Terna.
– please find below our press kit or download it here –
CREDITS
Client: Terna SpA
Design team : HDA – HUGH DUTTON ASSOCIES, GIORGIO ROSENTAL (team leader), GOZZO IMPIANTI, CEGELEC Solutions & Services
HDA design team: Hugh Dutton, Pierluici Bucci, Pierre Chassagne, Francesco Cingolani, Maria Angela Corsi, Gaetan Kolher, Carla Zaccheddu