photo: PopTech 2009 presenters, day 3 – 198 by Ed Yourdon on Flickr
_
The video below presents the design thinking of the architect and researcher Neri Oxman, who is proposing a different way of thinking about the design of things around us: instead of thinking about forms of objects she suggests to understand first their performance and "how they should or need to behave in space as most natural systems do, such as trees".
These purposes are especially interesting for us as in a past article titled Methodology of complexity (in French) we have defined form as "the spatial configuration of a physical object that is responsible for the relations between that object and the environment".
I especially like the way she explains the professional relationship between architects and engineers, that I think it's strictly related to what Hugh Dutton called "Integrated approach to design" in his paper "An integral approach to Structure and Architecture" available below.
If you have problems vizualizing the document and cannot read it, please download it from the following link.
[download id="14″]
"The construction industry's recent technical developmentes in engineering and material science and the building industry's new technical capacities provide new opportunities for architecture. These innovations can be used to integrate structure and the building envelope, or "skin".
For an integrated approach to design, borders between the distinct professional, industrial, and construction territories must be transgressed. The success of this exploration depends on architects understanding of the capacities and constraints of each separate field during the design process."
"An integral approach to Structure and Architecture"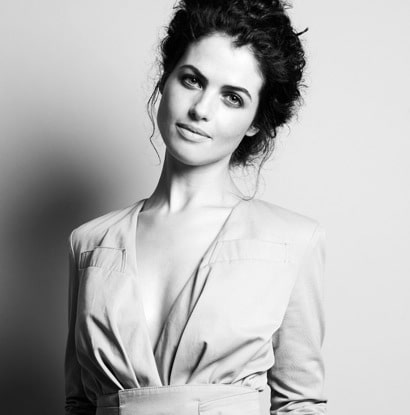 Photo: Tom Allen for INTERVIEW
_
"Architect and designer Neri Oxman is assistant professor of media arts and sciences at the MIT Media Lab, where she directs the Mediated Matter research group. Her group explores how digital design and fabrication technologies mediate between matter and environment to radically transform the design and construction of objects, buildings, and systems. Oxmanís goal is to enhance the relationship between the built and the natural environments by employing design principles inspired by nature and implementing them in the invention of digital design technologies. Areas of application include product and architectural design, as well as digital fabrication and construction."
read more at  web.media.mit.edu
As we read at businessinnovationfactory.com, "She studies the structure of a leaf to learn how a single material can readjust itself, change directionality, and redistribute its organic matter where necessary to achieve strength in one place, flexibility in another. She observes how material behaves and what forms result from that behavior. From a biological standpoint, Oxman considers the functions of the leaf. From the perspective of a material scientist, she evaluates the physical construction of its fibers. She refers to this process as "translating" from scale to scale. It's just a matter of "moving the dial," she says."
_
If you liked this post, you may be also interested in:
Patterns, Patterns, Patterns…the Alan Turing's work
Defining #parametric #design and #architecture
And if you speak a little bit of French, you can have a look at:
Les entretiens de complexitys: Hugh Dutton contre le "branding" de l'architecture
ARCHITECTURE HYBRIDE 10/10 : POUR UNE MÉTHODOLOGIE DE LA COMPLEXITÉ