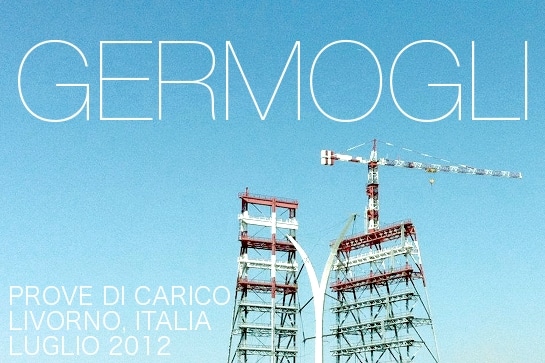 Germogli. This will be the name of the « pylons of the future » we are building in Italy. Do you remember the competition held by Terna we won with our design Dancing with Nature? The designer of the dancing pylons Hugh Dutton and the engineer Pierluigi Bucci from Hugh Dutton Associates were last week in Livorno (Italy) to assist to the load testing of the prototype and we share some photos and a video of this event.
The name GERMOGLIO (an Italian word meaning germ, bud, sprout) has been chosen to remind the vegetal analogy that inspired the first design thoughts. The pylons design is in fact inspired by the form of the first tender shoots of a young plant. The slogan « Dancing with Nature » explains by itself our vision of this project. Here are a few words from the design phase by Hugh Dutton.
Our own design response is based on changing the current 'industrial soldier' image of today's pylons. Primarily by an elegant shape whose form is inspired by nature instead of galvanized trellises. And secondly by what I called "dancing with nature" where the pylons lean and swerve in response to the topography. They find a structural equilibrium by leaning into the curve of the electric cables as they follow the constraints of the landscape.

More photos of GERMOGLI are available on our FACEBOOK PAGE.
////////////////////
Downloadable PRESS-KIT.
////////////////////