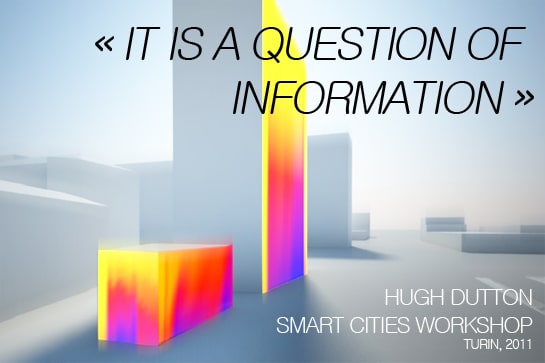 After weeks of discussions, brainstorming and details organizations, we are very very very happy to finally announce that Hugh Dutton Associates is the organizing partner of the REaction workshop about Smart Cities and Parametric Design. The workshop will be held on July 5th – 7th at SUPERBELLEVILLE coworking in Paris. You »ll find all the details and application form at superbelleville.org/reaction.



REaction workshop / SMART CITY CONCEPTS
[…]
Smart cities make instrumented, interconnected and intelligent systems. This new urban concept is generated by the lifestyle of today's citizens, who increasingly use digital devices to maintain them informed of local and global happenings. According to studies, almost 90% of the citizens had at least one account on social sites in 2012.
This kind of urban behaviors affects the role of the architect as a urban designer, demanding knowledge, understanding and application of new analysis and design tools, in order to consider several variables that have an impact in the design parameters of any project.
Based on the "Smart City" concept, the workshop will focus on the analysis, understanding and proposal of this new approach through the next three steps:
Presentation of three case studies regarding the concept of casino online Smart City in the Urban Public Many best-driving-school.com instructors use their own personal profile as a marketing tool instead of having a separate business page. Space developed in the Master of Advanced Architecture of the Institute for Advanced Architecture of Catalonia (IAAC), specifically in three different streets of Barcelona: Pere IV (video below), Meridiana (image below) and Paseo Grácia (PDF below).
Approach to the first visualization tools and based on the mapping concept (data collection, interpretation, representation and new analysis strategies).
Tools application over different urban contexts in order to understanding the relation between Paris and the smart city concept.
The workshop results will be published in the collective blog and web page, with the goal of amplifying the range of influence of this developing concept and bring to public view the work of all the people involved in this knowledge incubator.

Pere IV_Smart Street Hotel from Dulce Luna on Vimeo.
Hi! To see augmented reality in the video download the aurasma app ( https://auras.ma/s/mwsC9) and follow Pere IV.
Every time that the search icon appears in the screen look at it trough your tablet or mobile device.
Enjoy!
IMAGE ABOVE : SMART BLOCK 
IMAGE ABOVE : Passeig de Grácia Street
AGENDA OF THE WORKSHOP
JULY 5th, 2013 / Open Drink (FREE) – 7 PM
JULY 6th 2013 / Workshop Day 1 – 9 AM to 6 PM
JULY 6th 2013 / Workshop Day 2 – 9 AM to 6 PM
REaction WORKSHOP / ORGANIZERS AND TUTORS
Alessandro Carabini   Francesco Cingolani   Alejandra Díaz de León    Robert Garita   Aldo Sollazzo  Mauricio Valenzuela
The Workshop is organized by Super Belleville   abacO in collaboration with: Noumena Architecture   Estudio Hibrido  Open Collective
Workshop partner : Hugh Dutton Asscociates
/////////////////////////////////////////////
REaction WORKSHOP
Paris July 5th – 7th 2013
SUPERBELLEVILLE coworking
DETAILS AND APPLICATIONS > superbelleville.org/reaction
/////////////////////////////////////////////