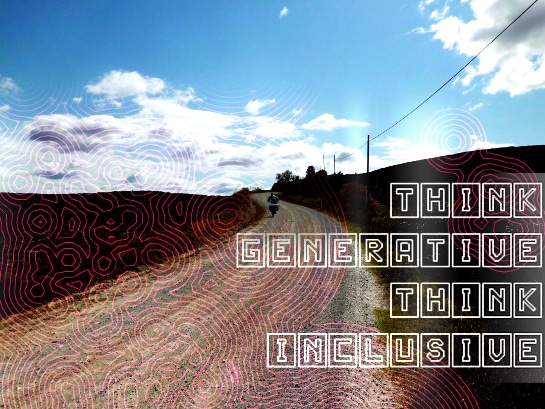 Today we introduce Alessandro Carabini – @xybale, a new guest author for complexitys. Alessandro (on the photo above during a bike trip) is a young and talented designer « looking for innovation at the intersection of People, Technologies and Architecture ». We met him at the 1st Open Drink at superbelleville coworking about social parametric research. Alessandro is also lauching with Hugh Dutton Associates the reaction workshop about smart cities and computational design that will be held in Paris in July ( more info soon on this blog 🙂 Here is an introductory text by Alessandro. Enjoy!

"Chance favors the connected mind." Steven B. Johnson
Having to write an introductory article for the blog Complexitys, for which I will have the honor and the pleasure to move from reader to guest author contributing in first person during the next months, I was wondering what is the best way to start. The first step, the first sentence. And by reflecting on the theoretical trajectories and on the name of the blog I decided to borrow the quote above from Steven Johnson, by far one of my favorites.
Not only as a perfect actualization of the motto « fortune favors the brave », but because is capable to contain and release all the complexity of our reality in its apparent simplicity. A quote that sums up and opens at contemporary issues through a metabolic and eco-systemic approach in which everything is interconnected. And above all, a quote which seems to reflect the content of this blog in a very appropriate way, by mixing my personal interests as an architect, creative, and curious about the world.
Love for cities and for architectural environments have led me to experience some of the most beautiful and interesting cities in the world. I studied Architecture in Venice, and I've lived and worked in London, Barcelona and Paris, where I am currently based.
Looking for innovation and following my interests, in the last years I have attended many events and workshops such as Advances in Architectural Geometry in Paris (AAG 2012) and Smart Geometry in London (SG 2013).
I'm collaborating with VoD Think Tank, a network of creative minds spin-off of the IUAV University of Venice with which I share the passion to promote and stimulate reflection about communication, social inclusion and urban design.


In 2013, I co-founded abacO, a collaborative design start-up which aims to operate and research between people, technologies and architecture through creative ways and social innov-actions. One of the first project-action of abacO is called #RovinedalFuturo (image above); it is a reflection with images and stories about abandoned buildings. It has been exhibited at Milan Design Week, and it now aims to grow through futures initiatives.
I'm interested in network design and generative thinking, computational design, innovative technologies and open processes applied to cities to enhance participation and social innovation, always with the focus of investigating hybrid realities and collective shared spaces. I recently started a blog called GenerativeMistakes, a sort of box in which I can create my personal connections between all these interesting pieces of knowledge.
On the other hand, in order to make my connections more physical during the next months, I am joining SUPERBELLEVILLE coworking space thanks to a creative residency program run by Hugh Dutton Associates who is partner of the space. I believe that working in such a creative and collaborative platform will help me to improve and develop my researches.
So, thank you to Hugh Dutton Associates, and see you soon.