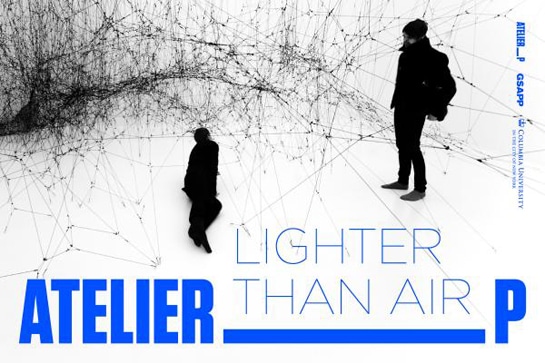 It's now official : Hugh Dutton Associates is taking part in The Paris Atelier « LIGHTER THAN AIR », an advanced academic program run in Paris by the Columbia University's Graduate School of Architecture, Planning and Preservation with the participation of visiting artist Tomas Saraceno.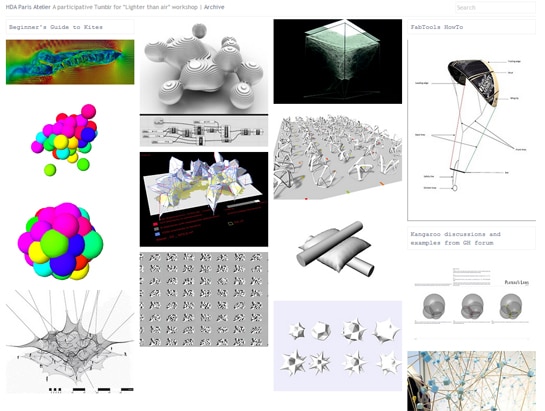 The Paris Atelier will be launched at Columbia Global Centers | Europe (Reid Hall, Paris) as a five-year research initiative made possible through the Laboratory for Applied Building Science, directed by Phillip Anzalone, in association with Asaf Gottesman, co-founding partner.
Sébastien of Hugh Dutton Associates started last week working with students as computational instructor (you can see above the blog with some of his references and tutorials for the workshop – hda-paris-atelier.tumblr.com). In the same week, Tomas Saraceno organized a balloon-making workshop and a kite-building workshop.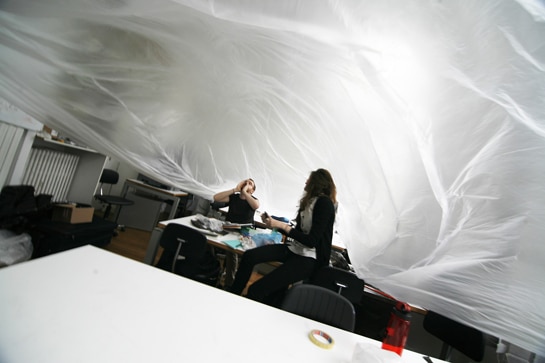 Updates will be posted to the Paris Atelier student blog (photo above) : parisatelier2013.tumblr.com
As part of the coursework, the Paris Atelier include a series of lectures that will address economic, cultural, social strategies in relation to production techniques within the art world and their role in museums, galleries, web-based art, auction houses, etc.
Partial list of Lectures include:
Philippe Apeloig, Graphic Designer & Artist, Apeloig
Micha Laury, Artist, Micha Laury
Arik Levy, Tecno-poete, L Design
Christophe Weisner, Galleriest, Galerie Yvon Lambert
Jocelyn Wolf, Galleriest, Galerie Jocelyn Wolff
Remi Gerbeau, Galleriest, Jousse Enterprise
Lionel Pissarro, Art Dealer, Connery Pissarro Seydoux
Tal Danai, Founder & CEO, ArtLink, Inc.
Paula Aisemberg, Curator/Manager, La Maison Rouge
Marc Lenot, Bloggist, Lunettes Rouge
Donatien Grau, Teaching Fellow, Université Paris-Sorbonne
Olivier Antoine, Galleriest, Galerie Art Concept
Marc-Olivier Wahler, Curator, Chalet Society
Mehdi Chouakri, Gallerist, Galerie Mehdi Chouakri
Christine Macel, Curator in Chirf, Centre Pompidou
Ami Barak, Art Curator
Philippe Regnier, Editor, Le Quotidien de l'Art
Nathalie Cohen, Art Collector
Florence Guerlain, Art Collector
Ranier Mugrauer, Scientist, Airstage
Leo Veldhuis, Professor of Aerodynamics, TU Delft
Lydia Kallipoliti PHd, Professor, Columbia University
Links:
arch.columbia.edu/labs/laboratory-applied-building-science/paris-atelier – official webpage
parisatelier2013.tumblr.com – Paris Atelier2013 student blog
hda-paris-atelier.tumblr.com – Hugh Dutton Associates blog for the program
ccgsapp.org/notes/2013/06/update-paris-atelier – news updates from Columbia University
tomassaraceno.com – Tomas Saraceno website
Media Partnership:
complexitys.com is the official media partner of The Paris Atelier program.