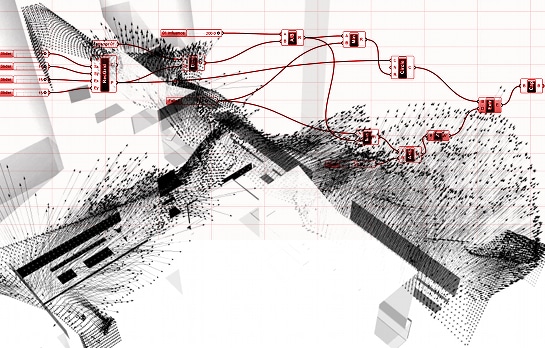 Image mixée d »un projet de Hugh Dutton Associés  definition grasshopper par nachetz [flickr]
Depuis quelques semaines Hugh Dutton Associés est coordinateur, avec Nadir Tazdait, d »un cours d »Architecture Paramétrique à l »Ecole d'architecture Villes et Territoires de Marne la Vallée. Le cours est conçu selon la méthodologie networked-learning que nous avons exposé dans notre article sur le network thinking et l »architecture en réseau écrit pour DNArchi.
Le cours inclut un site web interactif et ouvert aux publications des étudiants et à la participation de tout ceux qui sont interessés à ces thématiques:
complexitys.com/parametrix
Ecole d'architecture Villes et Territoires MLD is a great addition to other urine drug test measures, as it encourages fluid flow in the connective tissues. de Marne la Vallée
Optionnel Master : Architecture Paramétrique
Enseignants : Nadir Tazdait, Francesco Cingolani
Intervenant : Zoubeir Azouz
Conférences : Hugh Dutton Associés
Séance 1 à 6 initiation Grasshopper
Cours initiation interface Rhino, Cours Grasshopper, tutoriaux, exercices, visites.
Validation des projets de groupes en séance 6.
Séance 7 à 12, projet de groupe restreint
Suivi des projets et architecture en Grasshopper.
Pré-Jury faisabilité technique du projet de groupe séance 9.
Jury architectural du projet de groupe et choix Biennale.

Le cours inclut une conference de l »agence Hugh Dutton Associés prévue pour le mois d »avril.
Ci-dessus la presentation exposée lors de la première séance du cours, le vendredi 2 mars 2012, basée sur la conference Vers une Architecture Participative. 
Architecture Paramétrique – séance 1/12
Nous allons traiter certaines de ces thématiques mardi prochain 27 Mars lors de notre conference Architecture Participative à laquelle nous vous invitons à assister. Pour tout renseignement, n'hésitez pas à nous contacter.